Things are now spinning at such a velocity in the college football universe we're having a difficulty keeping up, even with four cups of coffee rushing through our veins our already ADD-prone system. (That fucking RSS scripter won't update fast enough!!!) The weekend produced it's normal treasure trove of comment-rich, information-deficient stories (that Terence Moore piece on ND being one of the most egregious we've read in a while,) but some useful stuff did get through the sifter.
For example, don't you want to be reminded of exactly how much talent you're missing due to players flunking out of class? Of course you do. We've emailed you a free kick in the nuts for extra measure, on the house for a valued customer like you.
We probably don't need to extend the offer to Florida State fans, whose tomahawks are likely pressed against their own throats following a lackluster scrimmage where both blue-chip qbs looked like crap against FSU's unleashed full-bore defense. Thank God the Noles open up against Miami of Ohio, an ideal matchup for breaking in tender young starters beneath center. Oh, wait, the other Miami? The really good one? Scratch that, then and weep now for the poor boys of the Citadel, then. They're going on the rack when they face a furious and humiliated FSU squad the following week. Coach Elton'll let 'em go breaking their heart for three and a half quarters, and we're guessing the Citadel won't stand a candle in the wind's chance of keeping it under sixty. (Insert preposterous Elton John homosexual gag here. Yes, we just said "insert," "Elton John," and "gag" in the same sentence. Somewhere in an alternate universe we're being awarded a trophy for this as we type.)


After a loss to UM, FSU's Bowden will be more than happy to fillet the Citadel.
Speaking of gagging, we have a Super-Genius Gary Barnett update courtesy of the Denver Post. First here's Barnett complaining jealously about the flowing rivers of money "just over the fence" in the Big 12 South. (We suggest he check the hidden slush fund boxes in his locker room if he's looking for some extra dough.) Mercifully for CU fans, there's some positives out of camp, including the emergence of Nanoback Hugh Charles (5' 9", 190), who seems to fit Brian's for requirements for classification as a "rabbit pimp" type player.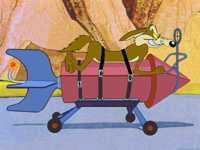 Gary Barnett: a genius looking for speed in the backfield may have found it.
And in case you haven't hit your specious preview saturation point yet, two outstanding entries drawn together by the common thread of gravel-voiced Minnesotan Larry Munson need your attention. First, Westerdawg puts together his 2005 predictionarama, replete with nifty photos and requisite snark. (Along with chippy, well-paced previews, which beat the shit out of the humorless Russian epics put together by the CFN crowd.) Then there's Bruce Ciskie's manic labor of love, done for EVERY MAJOR CONFERENCE by a guy who gets JACK SHIT for doing all the work for you. Sure, you say he's a talk radio guy, he should be doing this anyway. Well, when was the last time you heard a talk radio guy who knew shit about college football, much less any other sport? Exactly. Thank you, we'll be at the bar waiting for our drink.
(Apologies! RD Baker's opus can be found here, both top 25 and his TAMU opus. Don't mess with Texas. )
Notable exception: Chuck Oliver, of Atlanta's 790 the Zone, who along with Wes Durham represent the best of our local radio's college aficionados. (Highly recommended all around, by the way, especially for the 2 Live Stews, the only major market black sports talk radio show.) Our local radiopundit sturgeon (bottom feeders, that is) include former UGA Buck Belue, who radiates dumbness to an extent so powerful that people are known to devolve at the mere sound of his voice. If you see a transistor radio at a construction site tuned to 680 the Fan and a mess of trilobites scurrying in all directions, you'll know what happened.


Bad sports talk will turn you into one of these. And then your only friend will be Richard Fortey.