The Attorney General for the entire state of Colorado says he's willing to reopen the case against the CU football program if the grand jury report has anything new and substantial to say.
Does 'slush fund' sound substantial to you? Is Gary Barnett buying green bananas at this point? Does anyone in Colorado know their head from their ass when it comes to institutional control?
Since our only experience with the social strata and dynamics of the population of Colorado comes from Columbine and intensive "South Park" watching, we assume no, and that this whole thing will end with Gary Barnett attempting to gun down Kathy Lee Gifford, missing, and shooting Kenny in the forehead.
YOU BASTARD!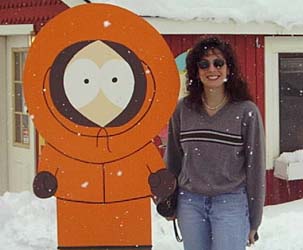 Kenny and Friend, shortly before being gunned down by Gary Barnett