Ladies, Gentlemen, the elect, lend me your ears!
As some of you may have heard, The Rapture is coming on Saturday the 21st.  This is obviously going to have a big effect on our favorite college football teams.  But fear not!  I have put together a guide for how various coaches will be effected.  Please let me know if I've left any coaches out in the comments
Coach #1: Jeff Tedford, Cal
Pros: Location at a godless granola-munching bastion makes him unlikely to lose many players or deep-pocketed boosters to the next world.
Cons: The Rapture will begin with the worst earthquake in the history of the world, and Cal's stadium sits directly above an earthquake fault.  The possibility of the rapture destroying Cal's football stadium cannot be discounted.
Preparation level: 3 stars out of 5.
Coach #2: Brian Kelly, Notre Dame
Pros: Steady habit of cursing nearly ensures he will not be taken up to heaven during the Rapture.  Further, the presence of a ten story Jesus made entirely of granite located directly behind the stadium may come to life and begin play for Notre Dame as the end times begin. 
Cons: 10 story granite Jesus may not have the test scores to get into Notre Dame.  Spread offense is considered by some to be heretical, and he may be burned at the stake for said views in the times of tribulation. 
Preparation Level: 4 stars out of 5
Coach 3: Mark Richt, Georgia
Pros:  Handles adversity well, as indicated by ability to reformulate lineups year in and year out after dozens of arrest and citations of his players.  Endurance of suffering at the hands of the evil (see: Florida series) means he is likely to respond to the rule of Satan's armies with grace.
Cons: His lack of swearing and altogether upstanding conduct mean he will likely be taken up in the Rapture, leaving Georgia with no leader. 
Preparation Level: 1 out of 5
Coach #4: The Right Reverend Houston Nutt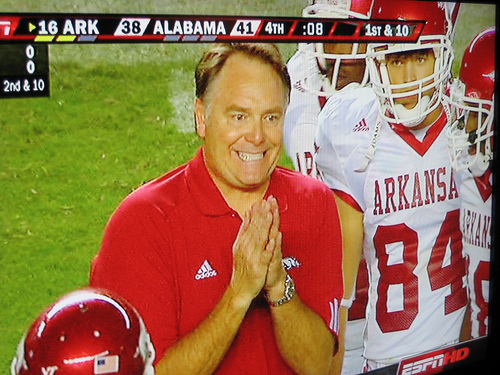 Cons: His recruits and fanbase come from the heart of the bible belt.  He will thus lose a large number of both players and corrupt boosters on the 21st, with losses perhaps climbing to 25% of his recruiting classes and 20% of corrupt booster cash.
Pros: Has been preparing for this possibility for years by oversigning recruits at a psychopathic rate and doing so with utter disregard for their character or intellect. 
Preparation Level: 4 stars out of 5
Coach #5: Lane Kiffin, Southern Cal
Pros: As the antichrist, will be uniquely positioned to bring USC to glory in the upcoming time of darkness, death and suffering. 
Cons: Reign will come to an end at the time of the Second Coming, but as USC fans will point out, the titles the Dark Lord wins during that time won't be taken away. 
Preparation Level: 5 stars out of 5. 
EDITED THANKS TO ACS' PHOTO ELSEWHERE:
Coach #pi: Les Miles, LSU
Pros: Voodoo and sorcery abound in his natural habitat, perhaps giving Coach Miles useful counters to the antichrist (see above)
Cons: Preparation for the Rapture acquires exquisite timing.  Les Miles DOES NOT HAVE THIS SKILL!
Preparation Level: 0 stars out of 5