LSUFreek would like to point out that though Trindon Holliday didn't qualify for the Olympics, LSU runner Richard Thompson did. He finished second running for Trinidad and Tobago, beating Walter Dix of Florida State, who celebrated winning bronze by losing by thirty points to Florida. Both would have performed much better had they removed their football helmets.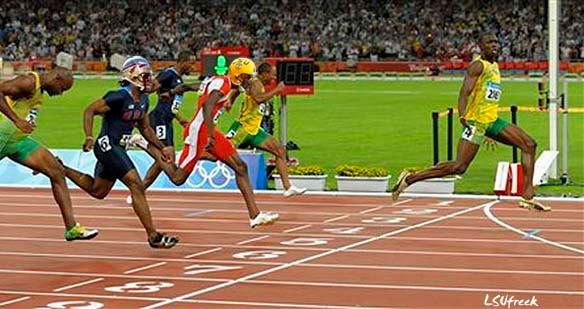 Next time: helmets off? Got it.
At SMQ's new digs, much musing is laid on the quarterback situation in the ACC. The Big Ten's not exactly impressive, either--your triple platinum name is "Todd Boeckman," who had a season high of 253 yards against Penn State last year. We've never heard of him, but wish him luck handing off to Beanie Wells.
Arizona's TE Rob Gronkowski is impressive and can eat footballs whole, if the picture included with this article is to be believed.
The opportunities for jokes if somehow the Michigan Wolverines had a miraculous season and pulled off a bowl matchup with Georgia would be endless. No pullout from excellence seems likely for WLA and their glorious gift to the people.
It's good being Chris Rainey, avowed white girl man, in his natural milieu.
Jordan Steffy will again be given the privilege of losing the starting job a second time to Chris Turner, something the gentlemen at Hell in a Red Shell are just bouncy giggle happy-thrilled about:
Yes, that same Steffy who sucked so badly that we were all happy to have Turner under center, and made everyone assume that Turner was the presumptive favorite to be the starter this fall. And since, we're here to ask the hard questions, we'll do just that:
What. The. Fuck?
Josh Portis will play in spots, something his mother is just enraged about, frankly.
The Wiz is moving to his very own site. Be advised.
Neither of them were such supple, funky dancers. OMG MISSOURI LOST ITS BEST LINEMEN. Blutarsky addresses the question of overreacting to Trinton Sturdivant's season-ending knee injury, and why this isn't affecting Missouri's buoyancy in the polls.