We bring you the tastiest trawlings of the internet. Yarr.
--Spurrier is now going to Alabama, having hypothetically spurned the 'Canes and President Bush's entreaties to join him as the Secretary of Defense, and will now be joining Bill Oliver in Tuscaloosa along with other classics of the early nineties like Naughty by Nature, Rollerblades, and Mortal Kombat. Scorpion would make an awesome safety, man. Get over here! (None of this is true. Except for the bit about Scorpion, since a safety with a sharp grappling hook would be awesome.)

Scorpion: would be almost as intimidating as George Teague.
--Go Yang, indeed.
--The SEC will be outside looking in again in the BCS, which is precisely what happens when you schedule crapulence in your out of conference schedule and watch your offense throw a piston at the Auburn game. Florida's schedule was rough on paper, but one more OOC game not involving a team you give your brother in a pick 'em matchup in NCAA 2007 game would have made an overwhelming case for Florida's inclusion.
Either way, Mike Slive will boldly shrug in protest.
--Fightin' Amish introduces us to Pete Carroll's website. We really, truly wish he hadn't.
--Speaking of USC...Boi From Troy has his own mini-catch on the Cal/USC game. Brian Cushing evidently played a nasty role for DeSean Jackson, being one of two or three players the Trojans assigned to jam him off the line. From what we saw of the game, USC's "jam" technique involves knocking the eyebrows off someone on every snap.
--BULLET BULLET BULLET!! INVEST IN TONGAN LINEMAN SHARES!!! Since the supply may be erratic for a while thanks to rioting and civil disorder in Tonga. Again, we repeat to Urban Meyer: recruit gay Polynesian linemen now and we will be rolling in Sears Trophies in no time.
--Peter admits that the Longhorns can't win 'em all: Texas A&M's Meat Judging Team took home its fourth title in a row. We're looking to field an EDSBS Meat Judging team, so female readers and gay boys, step on down and submit your qualifications below. We can't have Dennis Franchione beating us at anything, especially judging fine pieces of meat of any gender.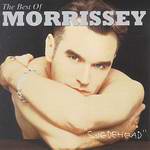 Meat judge Morrissey would approve of A&M's fine efforts.
--John Lopez, meanwhile, thinks A&M is dead meat in the game, which is but a shadow of its former self.
--Ivy Leaguers learn quick!
Ivy League leaders say they have protected the academic stature of their institutions, avoided the stain of recruiting and classroom scandals, and nurtured athletics as a truly amateur endeavor.
"Thank goodness," said Derek Bok, Harvard's president in 1981 and its interim president now. "The quality of football is not the primary objective of the institution."
And that's why you'll never win SEC championships, Har-vahhhrrd: lack of dedication, dammit. (And, er, not belonging to the SEC.) That forty percent legacy admission rate doesn't help, either: weak aristocratic blood will ruin a good blocking scheme every time. If you can get Yale alum and motivational master Aleksey Vayner, though, then do it: impossible is nothing for that guy.